DEBORAH ANN'S ICE CREAM
We make our ice cream using fresh dairy from Upstate Farms, a co-operative of family farms in upstate New York that pledge not to treat their cows with rBST growth hormones .
SOFT-SERVE
VANILLA – The richest soft-serve vanilla ice cream that can be made
CHOCOLATE CUSTARD – Chocolate ice cream with a touch of egg to give it an extra depth of flavor
HAND-DIPPED FLAVORS
Every Day:
VANILLA - Made with 100% natural Bourbon Indonesian vanilla
CHOCOLATE - A rich chocolate, made with Callebaut Belgian cocoa
BIRTHDAY CAKE – Cake batter ice cream with freshly baked birthday cake and rainbow sprinkles.
BUTTER PECAN – Classic Butter Pecan with freshly roasted pecans
CARNIVAL – Vanilla ice cream with Oreos, M&Ms and rainbow sprinkles
CHERRY VANILLA – Vanilla ice cream with Black Bordeaux Cherries
CHOCOLATE LACE – Sweet cream ice cream with chocolate covered drizzled caramelized sugar
CHOCOLATE FUDGE BROWNIE – A rich Belgian chocolate ice cream with chunks of brownie and a fudge swirl
CHOCOLATE PEANUT BUTTER – A rich Belgian chocolate ice cream with a peanut butter swirl.
COOKIE DOUGH – Chunks of Chocolate Chip cookie dough in a rich vanilla ice cream
COFFEE – Made with real coffee (regular not decaf!)
COFFEE TOFFEE – Made with our homemade English Toffee
COOKIES & CREAM – Oreo ice cream with chunks of real Oreos
ENGLISH TOFFEE – Buttery ice cream with our homemade toffee
GUMMI BEAR – Blue cotton candy ice cream with mini-gummi bears (made with a natural blue color)
HOT CHOCOLATE – Swiss Miss ice cream with loads of mini-marshmallows.
MINT PATTY -- Our take on the classic mint chip, made with imported Italian mint paste and our own homemade mint pattys
MOCHA CHIP – Real coffee, Belgian cocoa and chocolate chunks
MOOSE TRACKS – Vanilla ice cream with peanut butter cups, roasted peanuts and a peanut butter swirl
MUD – Coffee ice cream with fudge and chunks of Oreos
NUTELLA – Nutella ice cream with a Nutella swirl
PISTACHIO – Classic pistachio made with real pistachios
PURPLE COW –- Black raspberry ice cream with dark and white chocolate chunks
RED VELVET – Cream cheese ice cream with locally made Red Velvet cake from The Cake Box
RUM RAISIN –- Rum ice cream with plump raisins
SALTED CARAMEL—Vanilla ice cream with a salted caramel swirl
STRAWBERRY – The classic, made with chunks of real strawberries
S'MORE – A dark Belgian chocolate ice cream with mini-marshmallows and a graham cracker swirl
SWAMP – Vanilla ice cream with Oreos, M&Ms, chocolate chunks, and caramel
TOASTED COCONUT -- A rich coconut ice cream with extra toasted coconut flakes
VANILLA CHOCOLATE CHIP – Vanilla ice cream with tons of mini-chocolate chips
VANILLA PEANUT BUTTER SWIRL – Vanilla ice cream with a swirl of real peanut butter
Seasonal:
BANANA CHOCOLATE CHUNK -
EGG NOG -
LILY'S LEMON PIE -
MAPLE WALNUT - A classic New England flavor
PEPPERMINT STICK -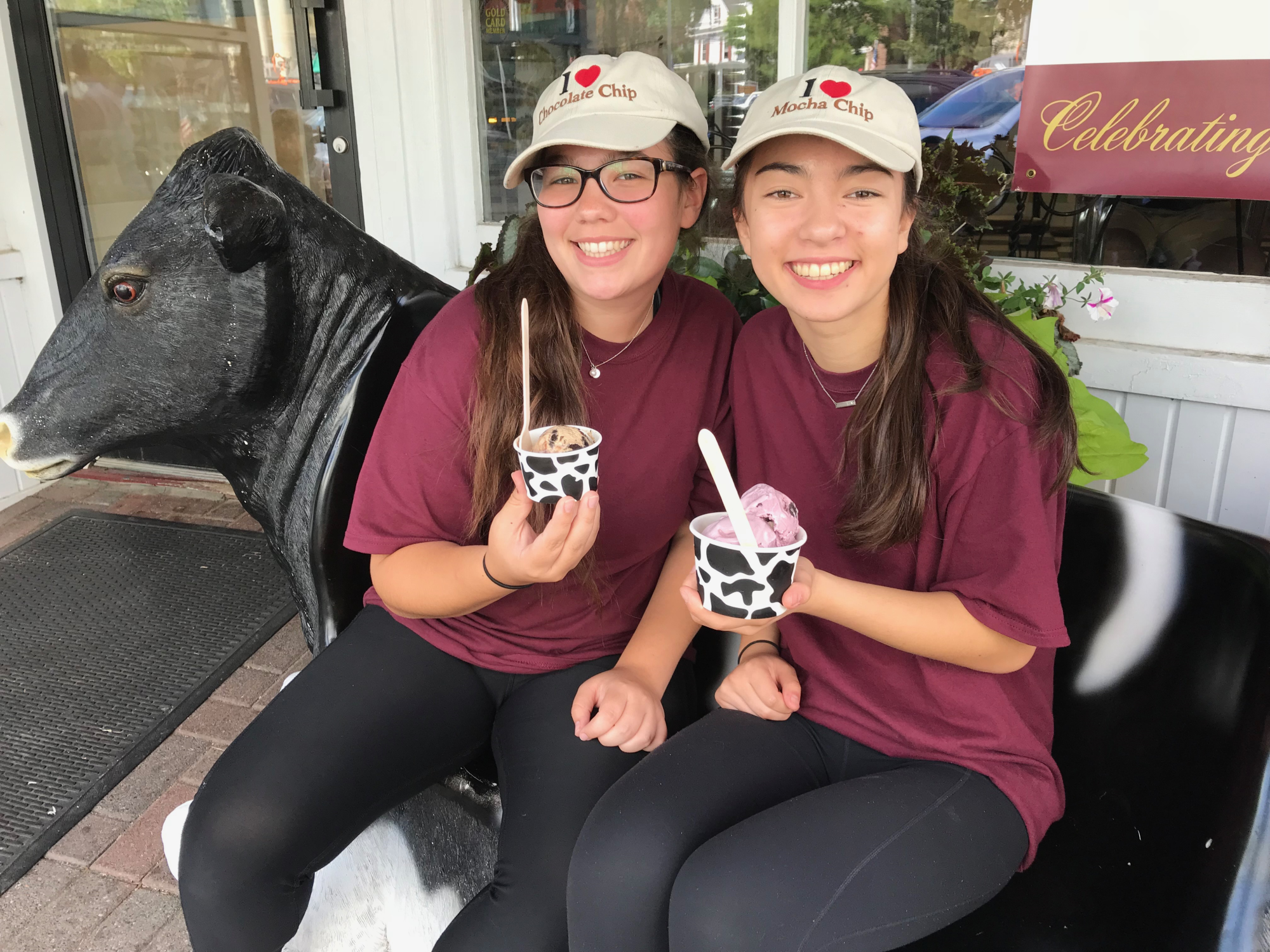 HAPPY COWS MAKE GREAT ICE CREAM!
Hear from some of the farmers who supply our fresh dairy